February 04, 2005
Janeane Garofalo: Inked Fingers = Nazi Salute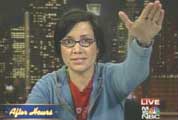 Air America talk show host and actress Janeane Garofalo continues to sink deeper into mediocrity, this time with a shrill declaration on MSNBC's
After Hours
that the members of the House and Senate that raised their fingers after having dipped them into blue ink, in solidarity with the voters of Iraq,
are like Nazis
rasing their arms at Adolph Hitler.
"The inked fingers and the position of them, which is gonna be a 'Daily Show' photo already, of them signaling in this manner [does the Nazi salute], as if they have solidarity with the Iraqis who braved physical threats against their lives to vote as if somehow these inked-fingered Republicans have something to do with that. And also, the bit of theater about the very distraught parents of the soldier who had died, the point is not if this was a real moment, if it was staged, if it was PR. The point is, is those parents and their son were misled about why that young man went into Iraq. And when he wrote a letter to his mother saying, 'It's my job to protect you now,' protect her from what? The imminent threat of Saddam Hussein and his weapons of mass destruction? So don't bring up, 'Is it helpful if the Democrats make some noise' when they're being lied to. That's not helpful, that's not helpful to pundits like you maybe, but it is not helpful to the country when a Republican President and his partisan Republican Party continue to perpetuate myth and dishonesty on the country."
Of course the left lapped it up.
Somebody needs to e-mail Janeane and let her know that she stopped being funny quite awhile ago.
Posted by: mhking at 07:58 AM | Comments (6) | Add Comment
Post contains 309 words, total size 3 kb.
February 03, 2005
AIM: "Ward Churchill is not a real AmerIndian."
The American Indian Movement Grand Governing Council in Minneapolis
issued a release
this week pointing out that Universtiy of Colorado Professor Ward Churchill, who has earned the ire of many Americans by calling the victims of the 9/11 terrorist attacks "little Eichmanns" (referring to World War II Nazi thug Adolph Eichmann), is not a true American Indian.
ChurchillÂ's statement that these people deserved what happened to them, and calling them little Eichmanns, comparing them to Nazi war criminal Adolf Eichmann, who implemented Adolf HitlerÂ's plan to exterminate European Jews and others, should be condemned by all.

The sorry part of this is Ward Churchill has fraudulently represented himself as an Indian, and a member of the American Indian Movement, a situation that has lifted him into the position of a lecturer on Indian activism. He has used the American Indian MovementÂ's chapter in Denver to attack the leadership of the official American Indian Movement with his misinformation and propaganda campaigns.

Ward Churchill has been masquerading as an Indian for years behind his dark glasses and beaded headband. He waves around an honorary membership card that at one time was issued to anyone by the Keetoowah Tribe of Oklahoma. Former President Bill Clinton and many others received these cards, but these cards do not qualify the holder a member of any tribe. He has deceitfully and treacherously fooled innocent and naïve Indian community members in Denver, Colorado, as well as many other people worldwide. Churchill does not represent, nor does he speak on behalf of the American Indian Movement.
On a related note, word came out of Boulder, CO this morning that Churchill's pick-up
truck was vandalized
this week with swastikas painted on it.
The vandals painted the swastikas on the tailgate of Churchill's Chevrolet pickup late Tuesday or early Wednesday, said Lt. Phil West, a sheriff's spokesman. He said deputies told him that Churchill's truck was parked in front of his home when the vandals struck.

Also Wednesday, Churchill turned over to deputies copies of "hate mail" he said he had received. Churchill told the deputies he already had provided the hate mail to the CU campus police, West said.
Though New York's Hamilton College has cancelled Churchill's speaking engagement, Churchill is
set to speak
at the University of Colorado in Boulder, CO this coming Tuesday night. The speech is on his book,
On the Justice of Roosting Chickens: Reflections on the Consequences of U.S. Imperial Arrogance and Criminality
, and will be Tuesday night (2/8/05) at 7PM (MT) in the University Memorial Center's Glenn Miller Ballroom on the Boulder campus.
I'm sure local folks in the Denver area will make him feel welcome (rolling eyes).
Posted by: mhking at 07:12 PM | Comments (7) | Add Comment
Post contains 462 words, total size 3 kb.
SOTU Follow-up: One picture says a thousand words
First lady Laura Bush, right, applauds as Safia Taleb al-Suhail, leader of the Iraqi Women's Political Council, back to camera, hugs Janet Norwood of Pflugerville, Texas, on Capitol Hill last night during President Bush's State of the Union address. Mrs. Norwood's son Sgt. Byron Norwood was killed in Iraq last November.
I'm not the only one who picked this as the money shot from the speech. Kevin at Wizbang beat me to the punch.
Posted by: mhking at 04:33 AM | Comments (5) | Add Comment
Post contains 90 words, total size 1 kb.
February 02, 2005
Blue-stained GOP fingers at the State of the Union?
Neal Boortz began his talk show this morning by extolling the virtues of a caller's suggestion: that the Republicans in the House Chamber all dip their fingers in blue ink, and show said ink-stained fingers in a "V For Victory" sign to President Bush during the SOTU speech tonight.
Neal indicated that he had called the office of Speaker of the House Denny Hastert and placed the suggestion in the hands of the powers that be on Capitol Hill.
This afternoon, Wizbang has word that other like-minded folk are thinking in the same vein (or inkwell, as the case may be).
Rep. Bobby Jindal is planning to demonstrate solidarity with Iraqi voters by dipping a finger in purple ink before President Bush (news - web sites)'s State of the Union speech Wednesday.

In a letter to be circulated Wednesday among fellow lawmakers, Jindal, R-La., said he would have ink available for anyone attending the speech who wanted to make a gesture of support for Iraqis and "people throughout the world who seek freedom."
I wouldn't look for Ted "Jabba The Drunk" Kennedy, John "Ketchup Boy" Kerry, Nancy "Cruella DeVil" Pelosi or Barbara "Cryin' Woman" Boxer to have ink-stained fingers tonight.
But given her flip-flopping to the point of making herself physically ill this week, don't be surprised if Hillary "The Wicked Witch of Westchester" Clinton tried it. After all, she is still working on her transformation into a "more moderate" Presidential Candidate.
Posted by: mhking at 09:54 AM | Comments (7) | Add Comment
Post contains 258 words, total size 2 kb.
February 01, 2005
US GI hostage story and photo faked; MSM falls for it--again
Looks like this was a fake, now that we've seen the photo, and kudos are due to
A Small Victory
,
Wizbang
and
Free Republic
for calling it.
It looks like this was a GI Joe-type doll on sale on the internet. Note the face, plus the gun and the fact that you don't see anyone's hands in the photo.
In addition, the Pentagon has verified that no soldiers are missing presently.
Score another one for the new media, as the MSM gets scammed again.
Posted by: mhking at 10:07 AM | Comments (15) | Add Comment
Post contains 106 words, total size 1 kb.
Iraqi terrorists claim to have US GI hostage, threaten beheading
A posting on a jihadist website claims that an Iraqi terrorist group is
holding a US soldier captive
, and is threatening to decapitate him if male and female prisioners held in Iraq are not freed within 72 hours.
The posting, on a Web site that frequently carried militants' statements, included a photo of what appeared to be an American soldier in desert fatigues seated with his hands tied behind his back. A gun barrel was pointed at his head, and he is seated in front of a black banner emblazoned with the Islamic profession of faith, "There is no god but God and Muhammad is His prophet."

A statement posted with the picture suggested the group was holding other soldiers.

"Our mujahadeen heroes of Iraq's Jihadi Battalion were able to capture American military man John Adam after killing a number of his comrades and capturing the rest," said the statement, signed by the "Mujahedeen Brigades."

"God willing, we will behead him if our female and male prisoners are not released from U.S. prisons within the maximum period of 72 hours from the time this statement has been released," the statement said.
The claim has not been formally verified yet.
UPDATE - 3P ET The Pentagon insists that no soldiers are missing, though this image, supposedly of a US soldier would otherwise disproove that notion.
I'll post video as soon as it's available.
UPDATE: I've got a link to the "fake GI" story here.
Posted by: mhking at 08:15 AM | Comments (8) | Add Comment
Post contains 285 words, total size 2 kb.
95kb generated in CPU 0.0537, elapsed 0.2253 seconds.
44 queries taking 0.2105 seconds, 129 records returned.
Powered by Minx 1.1.6c-pink.